Ralph Carney / Mark Price
©1979 -max- of nyc
Let us start off with one of our earliest pieces, an amazing concert that we attended soon after our move into NYC. HERE is a slideshow with audio from May 2, 1979. Bill and I were at Hurrah's to see Tin Huey, one of our favorite bands. I captured just seven photos (I shot eight but one was blurry), with my one and only camera at the time, a then 10-year old Kodak Instamatic camera (yes, I even used the flashcubes that night). The condition of the original prints are unknown, as they are still buried in our archives, but I did uncover the negatives. There was some damage, but with Photoshop to assist, I was able to salvage all seven shots. Audio was captured on a cheap condenser mic'ed piece of crap that we snuck in. It seemed important to try and capture some essence of the show, knowing how special it was going to be. Some audio clean-up was done, and the spirit and energy of this legendary ensemble shines through. We did what we could with what we had, and we have polished it up with what we have now.
We hope that you enjoy it.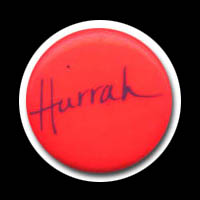 R. Stevie Moore / The Disabled Lad
©2008 -max- of nyc
HERE is a photo slideshow, from a gallery showing by the Scottish artist David Shrigley in May of 2008. Note that the focus is on the audience in combination with the artwork. The audio was recorded in the gallery while taking the photos, completing the ambience of the moment, so keep those speakers turned on.

Mr. Shrigley and R. Stevie Moore had crossed paths in several interesting ways, including an interview David conducted with RSM for a BOMB magazine article, and culminating in The Worried Noodles / Shrigley Fields project (a collaboration with many of Stevie's friends, including our very own B. Janoff). The Anton Kern Gallery has its own page for the show here.
R. Stevie Moore
by David Shrigley